---
---
Sell Your Home Using Our
Dane Warren Real Estate
Elite CRS Broker Listing Program
1.5%
commission at closing
Sell Your Home Using Our
Dane Warren Real Estate
CRS Broker Assist Program
1/2%
commission at closing
Purchase Your Home Using Our
Ideal Balance of Saving & Skills
Buyer Rebate Reward Program
1.5%
up to 1.5% on HUD-1 at closing
---
Are You Buying or Selling a Home in 2021?
Dane Warren Real Estate's closing volume enables us to reduce our clients commission when selling their home and allows us to offer a large buy side rebate at closing to our buyers. Even more important is our skill set gained over 24 years of experience in helping our clients during their real estate transactions in North and South Carolina!
*Update for 2021: if you have a property under $350,000, take the time to consult with one of our Brokers about your True Net Profit, before selling to any investor for profit.
Let us give you the facts about your Earned Equity Position.
Call (910) 315-0594
Our brokers have closed over 4000 transactions with a combined closing volume of over $1 billion in 24 years. We are a local firm with boots on the ground to help you with your real estate transaction in 2021.
Our Realtors are meeting the demand of savvy Buyers and Sellers in 2021 by offering our Hybrid Programs.
Anti Trust Laws protect Buyers and Sellers.
States that allow buy side / home buyer rebate:
www.justice.gov/atr/consumers-save-thousands-commissions
---
Which Service Are You Looking For?
DWRE is paid 1.5% at closing. We provide our 5 Star Equity Protection plan of action during all the phases of the listing period. The discount on commission is just one part of our Elite Listing Service. We strive to meet our client's timeline for selling, negotiate the offer to purchase to come to the best contract terms and manage the closing process of inspections, repairs, appraisal results by both a CRS Broker and Closing Broker to provide the best results with the least amount of stress.
Buy Side Rebate Program
When you retain DWRE to represent you in the purchase of either a Resale Property or New Construction Property, we offer our Buyer Rebate Program. Sign on with a Buyer Agency Agreement for the full benefit of our Buy Side Rebate.
Flat Fee Broker Assist Program
DWRE lists your home in the MLS for a retainer fee of $475, Elite Marketing and Closing Department support to manage your contract to closing. You will pay DWRE 1/2% of the sales price at closing plus the buy side commission offered in the MLS. 2.5% or 3.0% compensation you prefer to offer a buy side broker.
---
15 Points to our Elite Five Star Advantage
---
Marketing Plan Consultation that includes protecting your Equity from Investors for Profit.
Professional 1 hour Home Decor meeting with each Elite Listing Agreement
Buy Side Analysis Consultation
Contract negotiator with 24 years of experience to skillfully obtain the best terms for our seller or buyer client
Professional Photos
Our team of closing attorneys, loan officers and inspectors can assist as needed
Buy Side Rebate: We have buyers we work with at all times and we pay them part of our commission as a rebate when they help us help them by looking on the internet for the property they want to purchase.
Our Selling Marketing Analysis will fine-tune your price to maximize your selling price while still meeting your time-line for moving.
We provide our advice on improving the look and condition of your property.
Our listings are marketed to anyone moving into the area, their real estate agents and relocation companies
We are straightforward with our guidance and advice keeping it simple and easy to understand from your first consultation to the closing table when you hand over or receive keys.
Marketing to 5000 Web Sites
Charlotte Metro MLS which includes NC/SC Counties
Yard Sign, Supra Lock box
Showing service and agent feedback
Weddington to Marvin to Waxhaw to Ballantyne to Southpark to Lake Norman to Huntersville to Indian Trail to Stallings to Lake Wylie to Fort Mill to Dilworth to Myers Park to Northeast Charlotte to Cabarrus County, we can help sell or purchase your Estate Property.
Set up an interview to hear more about our elite listing program and buy side rebate.
704 814 9900
---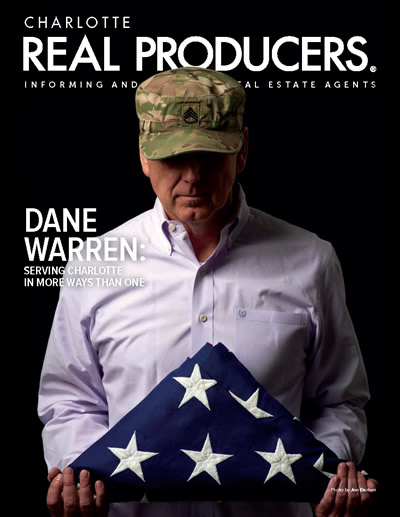 Charlotte Real Producers
We're proud to announce that Dane was featured on the May 2018 cover of Charlotte Real Producers. The article gives you a glimpse into the road that lead Dane into a career in real estate. It was an interesting road. You might enjoy finding out a little more about the person behind Dane Warren Real Estate.
Click here to read the article.
---
---
Victoria S**** did an amazing job as my Real Estate agent! Without hesitation, it is my honor to recommend her to anyone seeking competent, trustworthy and energetic representation in your future real estate endeavors. The sale of my home required a lot of repair work coupled with some aesthetic upgrades. As always, renovation choices impact the bottom line - you want every dollar to add value or encourage a purchase. Victoria fully understood this and was a fantastic partner during the entire remodel and sale. Her advice on color trends, kitchen upgrades, work to do (and what to leave undone) was spot on. Plus, her contractor contacts were perfect for my situation - they worked quickly and efficiently and produced very good results at very reasonable rates. After all the work was completed, my home sold in just two weeks fetching a price 10% higher than my highest pre-renovation estimate. You can't argue with results like that! The icing on the cake is that as part of Dane Warren Real Estate, her commission is below industry standards, which adds to your bottom line. But don't assume that this means you will get less effort. Befitting a true professional, Victoria has a laser-like focus towards achieving your goals works tirelessly to that end. I am a very grateful to have teamed up with Victoria S**** during the recent sale of my home. Her work ethic and mettle has earned my enthusiastic endorsement. I will definitely call on her again and urge you to do the same.

Tim B